Community Notices
Fundraising
Dental for Schools
First Day Term 4
Reminder that the First Day of Term 4 is
Monday 16 October
Vacation Care
Head Lice
Currently we have a number of cases of headlice presenting at school. We would appreciate you contacting us, in this instance, so we can keep our community informed.
Please find attached a Fact Sheet from SA Health of treatments and preventative measures which may be a support to families.
2023 Term 4 Sports Registration
Registrations are now open for sports in Term 4, 2023
Cricket, Basketball and Volleyball
If you are already registered, please DO NOT register again.
School Card
Low-income families can get financial help with school fees – materials and services charges – through the School Card scheme.
To qualify for School Card, your family's gross income must be below a certain limit. This limit depends on how many dependent children you have and whether your child attends a government, independent, or Catholic school.
The income limits are for applications lodged in 2023 and are based on the family's gross income in 2021-22.
Applications close 24 November 2023. For more information please click the link below or contact your school.
Lost Property
Lost property is collected, and every effort is made to return items to their owners. It is helpful when items are clearly named. Don't forget to name clothing which may be removed (e.g. track tops track pants, hats) as well as drink bottles and lunch boxes.
We have a large number of unnamed items. Please make sure you check the rack outside the Office before the last day of term.
Last Day of Term 3
Reminder that the Last Day of Term 3 is an Early Dismissal
2:10pm Friday 29 September

Reminder Fun Colour Day
The Colour Fun Day is being held on the last day of Term 3, Friday 29 September.
Family members are welcome to watch the fun.
11:05-11:25: Michelle, Edie/Elisha, Kat, Jade
11:35-11:50: Matilda, Julie/Maya
12:00-12:15: Karla, Marilla/Leanne
12:25-12:40: Jake, Ainslie
Please consider using old clothes or buying second hand as colour may stain. No particular colour is needed as powder seems to show up on both light and dark clothing.
We hope each child can raise $5. Extra donations are a bonus towards our goal of a Torres Strait Islander Flagpole.
Adelaide Zoo
Last Friday Room 5 and 6 went to the Zoo. We caught the train and tram. My favourite part was the Komodo Dragon because first it was at the back then it crawled to the front while waving its head around. My other favourite thing was the bats because they were hanging upside down, one of them opened its wing and it looked like it was cuddling the one next to it. These are the things I like about the Zoo. I had the best day at the Zoo and I can't wait to go again. Grace Rm 5
Last Friday we went to the zoo. We saw the pandas and the lions and the tigers. The pandas were walking around in circles. My favourite thing was the giraffes and the meerkats because it was like the meerkats were guarding the giraffes. I also liked the monkeys because they were swinging in on the vines and I liked the Red Panda. Sometimes the lion is on its own but when I went it was with another one. It was so fun I can't wait to go again. Beatrix Rm 5
On Friday we went to the Adelaide Zoo. We caught the train and tram. We saw lots of animals and we saw some beautiful parrots. My favourite animals were the Gibbons. My favourite memory was when the Gibbons were making the same sound as a real monkey and they were very loud.
Arthur Rm 6
On Friday we went to the Adelaide Zoo. We caught the train and tram. We saw lots of animals; my favourite was when we saw the Iguana. It was standing at the door for food. Fun fact, the iguana waves its head side to side. Why it does this is because this is how it senses stuff. Scarlet Rm 6
Prev
Showing images
1 - 8
of 15
Next
Book Week
For this year's book week, we had a special guest illustrator called Ross Morgan. He has illustrated The Gargoyle, Molly Moores has a house like yours and Hedgehog the wonder dog. Room 9 also hosted the book week assembly. One part of the assembly was the book week parade which we haven't done for years. The theme was read grow inspire and we had heaps of fun activities and competitions. Ross Morgan is a genius at illustrating! If we had to rate this year's book week, I think the whole school would choose ten or more!! Seb Rm 9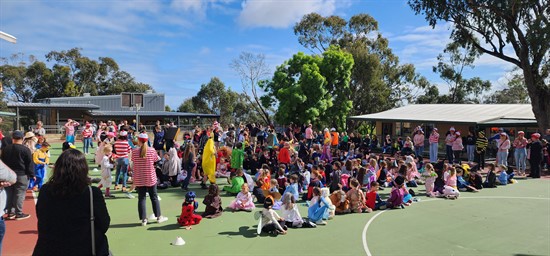 Prev
Showing images
1 - 8
of 19
Next
Water Safety - Rec to Year 4
For this year's swimming we went to Westminster Swimming pool. First, we got in our groups based on our technique. Some of us went in the deep pool and some of us went in the smaller one. We all at some point practiced saving people in three different ways. They were kickboard, pool noodle and lastly safety rope. We all got a chance at going in the deep pool, it was fun!
We all got a chance at playing at least one game. I think swimming was really fun this year and I hope others agree.

Prev
Showing images
1 - 8
of 10
Next
Term 3
Festival of Music
The South Australian Festival of Music Performance has once again proven itself to be an event of extraordinary proportions. This annual production showcased the exceptional talent of students from across the state with over 400 young performers gracing the stage. The night featured an impressive line-up of songs, artists and ensembles with a mix of musical genres, from classical to contemporary, leaving a lasting impression on all attendees.
Each performance was a testament to the countless hours of practice, dedication, and mentorship that went into preparing for this event. A big thank you must be extended to Josie, for her passion, hard work and diligence to make this event possible for our students.
The event's success was not only a tribute to the exceptional talent of the young performers, but also a reflection of the unwavering support of their families. Thank you for your commitment to nurturing their musical talents.
The dedication and passion exhibited by our choir was truly commendable.
Student Led Conferences
Thank you to all the parents and guardians who participated in the recent Student Led Conferences. These conferences are an invaluable platform for self-reflection and for developing meaningful connections between students, parents, and educators. This collaborative effort sends a powerful message, that we are all invested in the growth of our students.
One of the standout features is the level of ownership and responsibility demonstrated by our students. They take charge of the process, from setting goals to preparing presentations and articulating their progress. This level of engagement fosters a sense of responsibility and accountability and empowers them to develop critical skills such as communication, organization, and self-evaluation.
The conferences displayed the self-assessment that occurs regularly in classrooms. Through guided reflection, students are encouraged to identify their strengths, areas for improvement, and the steps needed to achieve their academic goals. This self-awareness equips them with the tools to become independent learners, a skill that will serve them well beyond their school years.
The Student Led Conferences offer a nice moment to celebrate and acknowledge our students' wonderful achievements.
It has been a brilliant term of growth and learning for students and staff. The hard work completed in term 3 provides a strong platform for even greater accomplishments, deeper learning, and continued personal growth.
Wishing everyone a restful and rejuvenating break. We look forward to embracing the opportunities that await us in Term 4.
Kellie Bowden
Deputy Principal
Community Notices
City of Mitcham
City of Mitcham residents are invited to apply for a free tree as part of our 2023 Arbor Day celebrations.
Residents who enter the competition will go in the draw to win a voucher for a young tree valued at up to $50 to be redeemed at State Flora Nursery, Belair, or Adelaide Advanced Trees, Cherry Gardens.
Tree species purchased must be a long-lived species (at least 25 years), a species that can grow to at least four metres' height at maturity and a species that provides shade when the sun is at its highest point. Applications are due by 25 August. Enter the competition.
Jeffries are providing City of Mitcham residents a 'buy one, get one free' offer for Jeffries compost, soil and mulch supplies during September
To redeem the offer, simply visit Hollards, 20 Grange Road Hawthorn or Hawthorn, Sand Metal and Landscape Supplies, 96 Belair Road Hawthorn. The second bag must be of equal or lesser value and cannot be used with any other offer. The offer is valid from 1 to 30 September 2023.
Parking Around School Zones
Mitcham Council continually monitors schools to enforce parking zones and restrictions to ensure the safety of students. By parking appropriately when you drop your children off to school, you can help to ensure there is no danger to students and avoid traffic congestion around schools.
Please be aware that any breaches of the Australian Road Rules 1999 observed by Community Safety Officers may result in the issue of an expiation notice.
Please click the link below to the 'Children Schools & Traffic' brochure which has information to inform drivers about public safety and provide for student safety around roadways at school drop off and pick up times.
Fundraising
Campaign

4 Month Membership Extension-Flash Sale

Promotion Offer

Free 4 Month Membership extension on all 12 and 24 Month Membership purchases

Promotion Dates

6.00pm, Thursday 24 August - 11.59pm, Thursday 31 August

T&Cs

When you purchase a 12 or 24 month Single City or Multi City Membership between 6.00pm, Thursday 24 August – 11.59pm, Thursday 31 August AEST you will receive an extra four months for free that will be applied automatically to your chosen Membership.  


3 month Memberships are excluded from this promotion.

Eden Hills Primary School QR Code.png (Embed centre)


Positive Partnerships
Between 1 and 2 in every 100 Australians are diagnosed with autism. The below video by Positive Partnerships describes the developmental condition that affects how an individual learns, perceives and interacts with the world around them. The spectrum of characteristics that accompany autism, from communication differences and sensory sensitivities to distinctive ways of thinking and processing information means that no two individuals are the same. Throughout the video, personal stories and insights provide a comprehensive view of the multifaceted nature of autism.
Volunteering At EHPS
Volunteers are an important and valuable part of our school community.
They fulfil many important roles such as listening to students read or accompanying classes on excursions. For excursions, classes need to fulfil the adult to student ratios to meet the requirements of the Department for Education risk assessments.
If you are interested in becoming a volunteer there are regulations that the Department have put in place to keep our children, and you, safe. All volunteers need to complete the volunteer pack which you can access via the school website or the link below.